Steinway Artist
Zoya Shuhatovich
received her Doctor of Musical Arts degree in piano performance from the Gorky State Conservatory, Russia with the highly regarded pianist and teacher Ilia Fridman, a pupil of the legendary piano teacher, Heinrich Neuhaus.
The same year after her graduation with distinction she was appointed to the faculty of the Gorky State Conservatory. Since then she has made several highly successful tours across the former Soviet Union, Europe both as soloist with orchestras as well as in recitals and chamber music concerts. She was also frequently featured in radio and television broadcasts.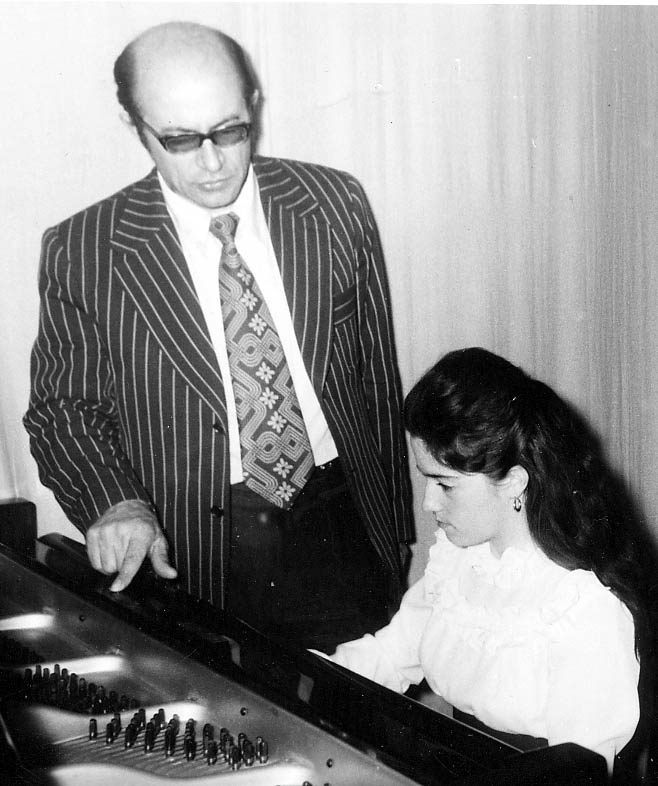 Ms. Shuhatovich immigrated to the United States in 1993. From 1994 to 2001 she worked at the Moores School of Music at the University of Houston.
She made her New York debut in 1998, where she was invited to open the Chopin Festival with a solo recital. Since then she has performed in New York regularly. In April 2002 she performed for President Bill Clinton. In July 2005 Ms. Shuhatovich played a private recital for the members of the Spanish Royal Family. Her recitals are frequently transmitted on National Public Radio, Sirius™ Satellite Radio, Australian Broadcasting Corporation (ABC). She performes regularly in New York, Chicago, Minneapolis, Denver, Atlanta, Dallas, Houston, Austin, San Antonio etc.

Zoya Shuhatovich has joined the distinguished ranks of Steinway Artists in 2007.

She has participated in the following major music festivals: Warsaw Autumn, Texas Music Festival, Shostakovich Festival, Bravo! Festival, Ramapo College Summer Festival, Neuhaus Piano Festival in Germany.
Zoya regularly performs with orchestras and plays solo recitals throughout the US, France, UK, Germany, Spain, Italy, Switzerland, Liechtenstein, Russia and Poland.
In November 2010, she made her UK debut in London at St. Martin-in-the-Fields and played there again to standing ovations in December 2011. In the following years, she appeared in London regularly, performing at such venues as St. Martin-in-the-Fields, Steinway Hall, and Royal Over-Seas League for the Rotary Club of London, Paris and various cities in Germany. Her 2018 season featured concerts in Paris, Valencia, Berlin, Rostock and a debut solo recital in Rome which was a big success.
Her international engagements for 2019 and 2020 include concerts in Paris, Rome, Madrid, Valencia. The highlight of the season 2020 is invitation to perform at the International Chopin PianoFest, Prishtina, Kosovo.


Quinte Parallele magazine, Rome, October 1, 2018:
Ragione e sentimento, il pianoforte di Zoya Shuhatovich. Il tocco è forte e deciso, senza indugi, e la resa di questi trenta minuti di musica è letteralmente spettacolare.
Al pubblico non resta che applaudire la pianista la quale concede all'uditorio ben tre bis.


New York Concert Review, Spring 2009:
"Ms Shuhatovich showed herself to be a commanding force at the keyboard. Beautifully shaped singing phrases and drama galore characterize this pianist… It was much to admire in every work this pianist played".


Greater New York Council of the Chopin Foundation: "Polonaise Magazine":
"…powerful performance of Zoya Shuhatovich…..great pianist from Russia"

Ostsee Zeitung, May 2008, Germany:
"She has temperament, warmth, command of the instrument, and a big, singing sound…… She is a first rate musician… she is dazzling audiences with her musical skills and her charms…"

Urban Healing, London, UK, May 2012:
"Zoya's musical sensitivity, her purity of style and integrity as she interpreted each composition, moved the audience and allowed to tune in to what Chopin intended to express".
---